Jbl Pulse Bluetooth Wireless Speaker Black
Brand:

JBL

Product Code:

JBL PULSE BLUETOOTH WIRELESS SPEAKER

Availability:

In Stock
JBL PULSE BLUETOOTH WIRELESS SPEAKER
Transform your living room in to a happening party place with JBL Pulse which has been designed with programmable LED lights. These lights add life to any music and set a party mood for everyone in the house. With Pulse, you get 5 pre-programmed light themes. Simply choose any and play as per the demand of the music. Also, you can show your creativity as you can customise the LED show as per your choice.
With rechargeable lithium-ion battery, Pulse can play non-stop music for up to straight 10 hours, only if the audio playback is happening. In case or audio and light show playback, the Pulse provides 5 hours of endless entertainment.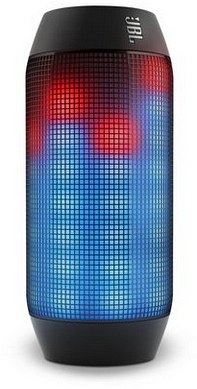 With frequency response of 105 - 20 kHz, the wireless portable speaker can play music from any Bluetooth enabled device. It saves unnecessary clutter while keeping your device handy and easy to use. You may connect and play audio from your cell phone, tablet, laptop, etc. If your external device has a Bluetooth, it is meant for your entrainment!
JBL Offers Qualitative Sound With Wireless Light Show
Now, enjoy your favourite music with a little difference with JBL Pulse. Convert your living room into a discotheque with JBL-quality sound combined with a programmable LED light show. You will get both of these in a single instrument. This is a completely wireless speaker with Bluetooth connectivity, which makes it an easy to use and portable device. Stream your favourite music directly from any smart device and improve it with your choice of programmed or customized LED light themes. The Pulse provides a stereo punch with clear and power packed sound in a handheld portable device.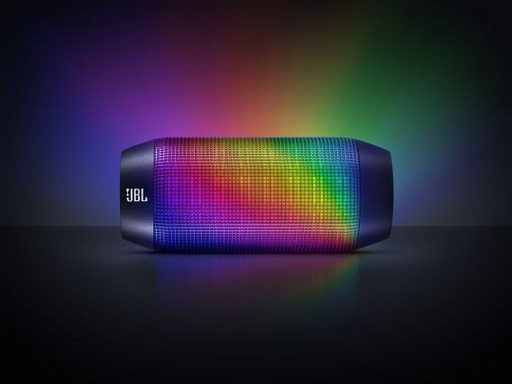 Experience Room Filling Audio With Unrivalled JBL Sound
JBL Pulse is well known for producing amazing audio quality. It delivers lifelike clarity and quality for the given audio with the help of the two high in performance drivers and a built-in bass port. The two 40 mm drivers and the custom-tuned bass port provide room-filling sound with the high-fidelity sound reproduction. Enjoy every musical note with crystal clarity.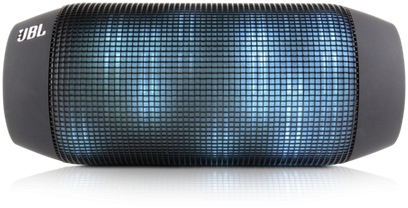 Built-in Audio and Visual Treat With Programmable LED Lights
Have you ever imagined a light show of your own at any place you want? Pulse is a genie that will fulfil your desire of becoming a great host. Add life to your house party, beach party, college party or a simple music playback with this portable wireless Bluetooth device. It will not only give you astounding audio but the programmable lights are designed to set you in a party mood. It is wireless, easy to carry, Bluetooth enabled and portable. It is a sound and vision renewal to treat your eyes and ears at the same time.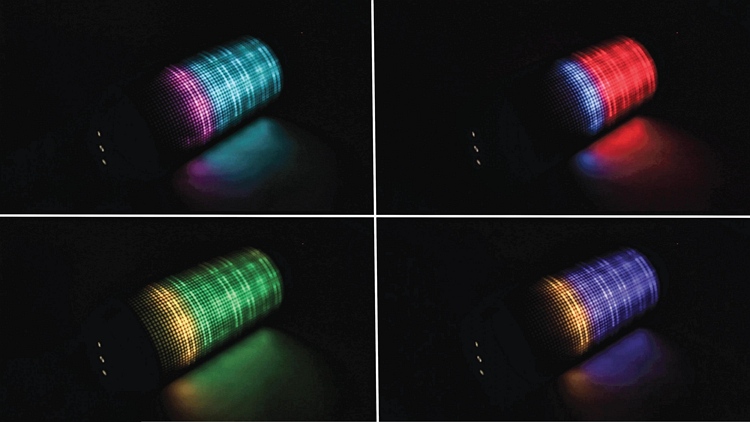 Wireless Bluetooth® Stereo Streaming With NFC
JBL Pulse is a wireless speaker which can play music via Bluetooth. Simply connect any of your Bluetooth enabled device to the speaker and play your favourite songs. No need to wait before playing your favourite tune. Connect with any Bluetooth enabled device like a mobile phone, laptop or tablet and enjoy hours of entertainment.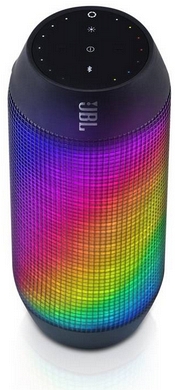 Add Colour To Your Music With Pre-programmed and Custom-programmed Light Themes
Pulse is a portable device by JBL which has been designed to add some colour to your life. You can select from the assortment of five pre-programmed light themes to many more downloadable options. Simply choose any of the themes to match to your music. Also, you can exhibit your own creative touch by customizing the patterns of brightness and colour. It is easy to use as it only takes a single touch to customize the speaker.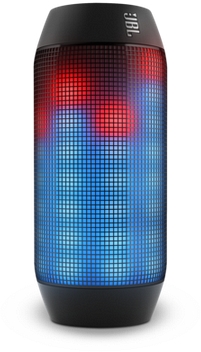 Rechargeable Lithium-ion Battery For Long Hours of Wireless Entertainment
JBL Pulse has been developed with rechargeable lithium-ion (commonly known as Li-ion) battery. Once fully charged, the speaker is ready to give you unstoppable entertainment for straight 10 hours. It can play up to 10 hours if only the music is being played; however, in case of music and light show, it can play audio for around 5 hours. Charge it and play it to start the party!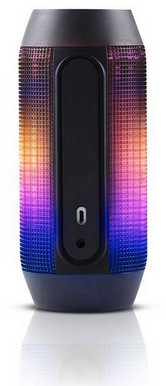 Simple Set-up With Easy Connection And Complete Control With The JBL App
With JBL Pulse, you can now connect two devices at the same time. It is really easy to use and needs no hard knowledge of technicality. The Bluetooth® connectivity makes it easy and instant to connect your mobile phone or tablet to the speaker to wirelessly play music. You may like to go through the enclosed Quick-start guide once for easy understanding of the speaker while the JBL app will do the remaining part of giving you pleasurable music.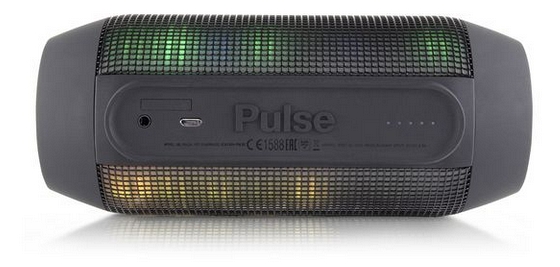 Technical Features
JBL Pulse has the following technical features:
· Bluetooth: 2.402 GHz - 2.480 GHz
· Max Frequency Response (Hz): 20 kHz
· Min Frequency Response (Hz): 105
· Input Requirement: 3.5 mm
· Dimensions: 79 mm x 182 mm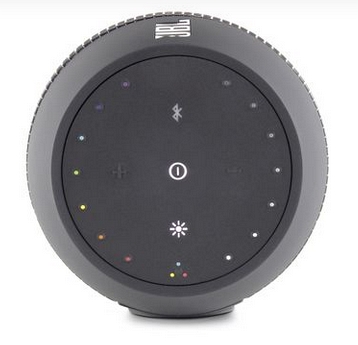 Know What Is Inside the Packed Box
Inside the JBL Pulse wireless Bluetooth speaker dock package you get the following things:
· 1 JBL Pulse portable stereo speaker with LED lighting
· 1 x USB adapter
· 1 x USB cable
· Quick-start guide
· Safety sheet
Specfication
Brand
JBL
Model ID
Pulse
Type
Bluetooth Speaker
Key Features
Bluetooth Speaker, Polymer Lithium-ion Rechargeable Battery, 2.402 GHz - 2.480 GHz Bluetooth Frequency Range, NFC Support, 3.5 mm Jack, 105 to 20000 Hz Frequency Range, 80 dB Signal-to-Noise Ratio
Category
Speakers
AUDIO FEATURES
Frequency Response
105 - 20,000 Hz (Satellite)
Signal-to-Noise Ratio (dB)
80 dB
Amplifier
Yes
Other Audio Features
Stereo Punch with Clear and Powerful Sound, Built-in Bass Port, Built-in Audio, Room-Filling Sound
CONNECTIVITY
Headphone Jack
Yes
POWER
Input Power
DC 5 V
Battery
Polymer Lithium-ion with 5 hrs
ADDITIONAL FEATURES
Other Features
3.7 V Battery, 14.8 Wh, 64 LEDs with 5 Pre-programmed Light Patterns, Two 40 mm Drivers, Wireless Fun: 10 hrs (Music Only) or 5 hrs (Music and Light Show), Portable Speaker, Power: 5 V DC, 2.3 A, Amplifier Power: 6W x 2, Battery Charging Time: 3 hrs
DIMENSIONS
Subwoofer (Width x Height x Depth)
182 x 79